Activities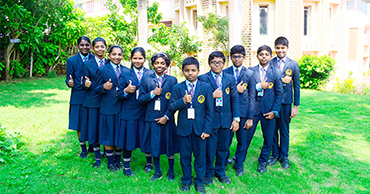 Extra Curricular Activities
Karate
The school provides Karate training for the students in order to build their self-defence techniques, improve their physical and mental health, and develop balance, agility, coordination and flexibility.

Keyboard / Guitar
Musical training for the students is provided by the school management. Students are trained by our expert music teacher to play several musical instruments like keyboard, guitar, drums, saxophone, violin etc. Interested students who enrol for the further training are given special care to step ahead to reach their heights in musical knowledge.

Yoga
Having a more philosophical attitude about life in general and one's own actions in particular is the start of yoga and meditation. Objective of the training was to physically and mentally prepare the aspiring yoga students to be confident in practicing and teaching by themselves. All classes are taught by a Yoga expert faculty and his assistant yoga teachers.

Horse Riding
We provide training for horse riding that offers a great workout for both the mind and the body, physically boosting the cardiovascular system and easing stresses on the mind.

Field Trip
Going beyond the classroom walls and textbooks comprehending the wonders that are beyond the syllabus and to gain first-hand knowledge and experience and augment academic learning, the school organizes field trips for the students. They were once taken to the Eco Park in Kanyakumari and to the Biological plant species, and Animal husbandry in Ooty.